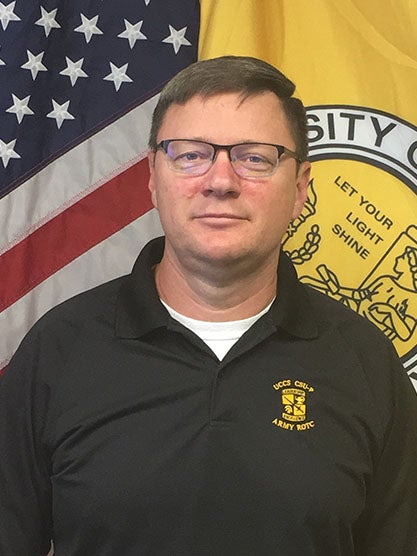 Recruiting/Scholarship Officer
Awards
Meritorious Service Medal with four Oak Leaf Clusters
Army Commendation Medal with five Oak Leaf Clusters
Army Achievement Medal with eight Oak Leaf Clusters
Army Superior Unit Award with Oak Leaf Cluster
Southwest Asia Service Medal
National Defense Service Medal
Army of Occupation Medal
Global War on Terrorism Service Medal
Air Assault Badge
Biographical Information
Mr. Don Caughey was born and raised in northern California. He enlisted in the Army after high school, and served for nine years as a Russian linguist in North Carolina, West Berlin and Alaska. He attended Officer Candidate School in 1994, and commissioned as an Armor officer. As an armor and cavalry officer, he served as a tank platoon leader, tank company executive officer, battalion maintenance officer, squadron logistics officer, cavalry troop commander and observer/ controller team chief before he retired. He completed his Bachelor's degree from the University of Louisville, majoring in history with a Russian Studies minor.
He received his Master's degree with honors in Management & Leadership from Webster University.
Mr. Caughey is currently a Department of the Army employee serving as the Enrollment & Scholarship Officer for the Mountain Ranger Battalion. He previously worked in the Army ROTC programs at the College of William & Mary and Colorado School of Mines as a Battalion Operations Officer, Battalion Executive Officer, and Assistant Professor of Military Science for MS I, II and III classes. He is also a member of the Order of St George and the U.S. Army Europe Sergeant Morales Club.