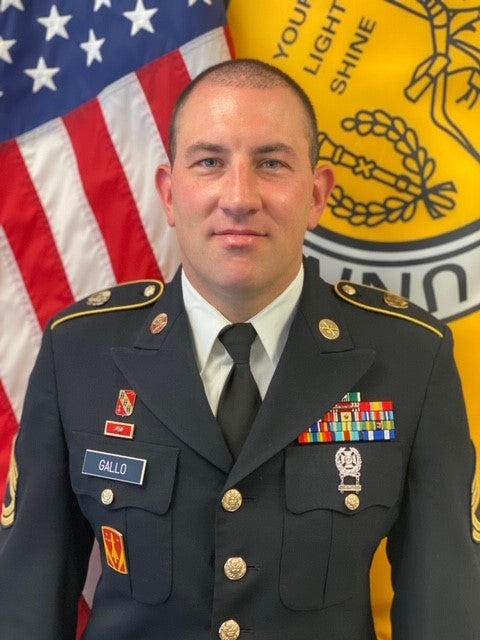 Military Science Instructor
Biographical Information
MSG Paul Gallo was born and raised in Toms River, New Jersey. He enlisted into the Army in 2010 and attended Basic Combat Training (BCT) at Fort Jackson, South Carolina and Advanced Individual Training (AIT) at Fort Sill, Oklahoma. Upon completion of training he was awarded the Military Occupational Specialty (MOS) 14J, Air Defense Artillery C4I Tactical Operations Center Enhanced Operator-Maintainer. Two months after AIT his MOS split and he was reclassed to 14G, Air Defense Artillery Battle Systems Manager.
MSG Gallo was stationed at Fort Lewis, Washington from January 2010, through November 2017 with 5th Battalion 5th ADA Regiment. In his time with 5-5 ADA he held several positions to include Sentinel and Avenger Early Warning Section (EWS) member, Sentinel Section Sergeant, Counter Rocket, Artillery, and Mortar (C-RAM) Engagement Operations Cell (EOC) Team Chief, and C-RAM EOC Platoon Sergeant. SFC Gallo deployed twice to Iraq and once to Afghanistan in his tenure with 5-5 ADA. In December 2017 he reported to the 69th ADA Brigade (BDE) Headquarters. He was assigned as the BDE S3 Operations Non-Commissioned Officer in Charge (NCOIC), S3 Platoon Sergeant, and BDE Schools NCOIC. From January 2018 to October 2019, he was deployed to the United Arab Emirates as the Air Defense Liaison. MSG Gallo reported to the University of Colorado Colorado Springs in March 2020 where he is currently assigned as a Reserve Officers' Training Corps Instructor (ROTC).
MSG Gallo's military education includes the Common Faculty Development-Instructor Course, Battle Staff, Joint Interoperability Course JT-101, ADA Advanced and Senior Leadership Courses, Basic Leadership Course, the Army Retention Course, and Combatives levels one and two.
MSG Gallo's awards and decorations include the Meritorious Unit Citation (1 Oak Leaf Cluster (OLC)), Army Commendation Medal (5 OLC), Army Achievement Medal (7 OLC), Army Good Conduct Medal (3rd Award), National Defense Service Medal, Afghanistan Campaign Medal with Campaign Star (CS), Iraq Campaign Medal with CS, Global War on Terrorism Expeditionary Medal with Service Star, Global War on Terrorism Service Medal, Meritorious Outstanding Volunteer Service Medal, Non-Commissioned Officer Professional Development Ribbon with numeral 3, Army Service Ribbon, Overseas Service Ribbon, and the NATO Medal.